There is really nothing in the world as captivating and erotic as watching a girl pull her pants down from behind. I mean, at least when you know the anal sex is near. Anal Sex Dating has given many men and women new opportunities to score fetish and kink fun.
Women like anal sex. Never let anyone tell you any differently. But it remains, anal sex is a more aggressive, complex sexual fetish. This means you need to be sensitive to a number of factors or your anal sex dating journey will end before it begins.
Anal Sex Dating provides a platform that connects you with sexy girls interested in backdoor sex. But opportunities won't just fall into your lap, you'll need to do some work.
Be Up Front About Your Desire To Be Safe, Clean
When it comes to anal sex dating, the priority is always safety and cleanliness. Some girls are trying anal sex for the first time. But no matter what a girl's anal sex experiences are, they all want to know that the guy they are sharing this kink with are into hygiene.
Read our How To Prepare For Anal Sex guide to learn the ins and outs.
Don't Send Template Messages
This is a prominent and egregious adult dating mistake. Heck, I've seen it on traditional dating sites. It's rampant.
Guys want to save time so they deploy the "shotgun approach."
They figure, hit up more opportunities and increase chances that a few stick.
The problem is, anal sex is a super intimate experience for girls. They are looking for a guy who truly wants to understand their sexual needs and desires. Plus, safety is a big issue.
What sexy girl would trust a guy who can't even write a unique paragraph to them? Is that the guy she wants in her butt?
Me thinks not.
You don't have to write novels to them. Just read their bio and write a paragraph or two. You'll be surprised by how much of an improvement this makes to your anal sex dating pursuit.
Know (And Express) What You're Into
She needs to know if you are the right anal sex dating partner for her. Too often, guys say what they think the girl wants to hear in hopes of seeing those sexy pants hit the floor.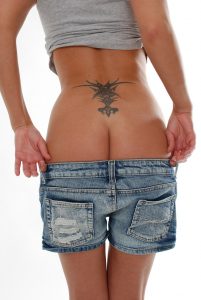 But this is a mistake. Because you'll probably never even get a chance to have sex with her.
Girls who sign up for Anal Sex Dating are more likely to grill you and try to figure out if you're legit, or just trolling around looking for any girl to say yes to you.
It's imperative to be honest. Honesty helps keep the situation both safe and fun for both of you.
There are plent of fish in our adult dating sea, not all of them are right for you. That's completely OK. Don't force things. You're better off finding the right girl for you.
Ask Her What She's Into
One of the most common general dating mistakes men make is forgetting to ask her about her. Sometimes, this is because the guy is a narcissist too utterly self-involved to learn about another person. Other times, our nerves get the best of us and we fail to realize we are filling conversation only about ourselves.
In either case, when it comes to anal sex dating, you'll need to convey that you care about her needs. Otherwise, she'll assume you're a selfish lay.
You need to ask her what type of anal sex experiences turn her on. How new to anal sex is she? Is she more into anal play than actual sex? Does she want you to stimulate her vagina during the anal sex? What positions rev her engine?
Knowledge is power. The more you know, the more opportunity for you to pleasure her. And this means repeat sexual experiences with her. But it also means that a new girl is more likely to give you a chance at some adult fun.
Make Your Discreet Accountability Known
One of the biggest benefits of adult dating is discretion. No girl wants to have anal sex with a braggart bro. She may be married or working at a job that she prefers not to know she has an adult dating profile.
The more confident she is that you'll be discreet, the more the opportunity ripens.
Make it clear you're a discreet encounter kind of guy early in the vetting process. It will go a long way in enticing her to be your anal sex dating partner.
Conclusion
Meeting girls on Anal Sex Dating is not difficult, but sending template messages is the kiss of death.
Girls on our site are looking for guys who care about safety and cleanliness.
If you're self-absorbed and never ask her what she's into, you'll lose her in short order.
Not all anal sex dating partners are compatible. Be honest with what you want and make sure it's a match for her. This way, you'll have repeat experiences.